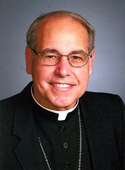 Bishop Felipe J. Estévez currently oversees the Archdiocese of Miami's Ministry of Pastoral Services/ Lay Apostolate, which includes youth and young adult ministry, campus ministry, rural life, family life, prison and respect life ministries, airport and seaport ministries, as well as, all the apostolic movements and lay associations.

Bishop Estévez has served in the United States Conference of Catholic Bishops as member of the Bishops' Committee on Priestly Formation, the Bishops' Subcommittee on Hispanic Affairs, Bishops' Committee on Cultural Diversity in the Church, the Ad Hoc Committee on Stewardship, The Task Force on Health Care, the Subcommittee for Youth and Young Adult Ministry, and the Committee on Migration and Refugee Services.

He was appointed Auxiliary Bishop of the Archdiocese of Miami on November 21, 2003, and ordained to the episcopacy on January 7, 2004.

Fluent in English, Spanish, French and Italian, he earned a Licentiate in Sacred Theology (S.T.L.) from the Montreal University in Montreal, Canada (1970), a Master in Arts from Barry University, Miami Shores, Florida (1977), and a doctorate in Sacred Theology (S.T.D.) from the Pontifical Gregorian University in Rome in 1980.

From 2001 to 2003, Bishop Estévez served as dean of spiritual formation of Saint Vincent de Paul Regional Seminary in Boynton Beach, where he had served as rector from 1980 to 1986. He was pastor of Saint Agatha Parish in Miami for 14 years, while also directing the Campus Ministry at Florida International University.

go back